Infrastructure Partnerships Australia is an industry public policy think tank and an executive network, focused on excellence in social and economic infrastructure.
We bring together Australia's major public and private infrastructure organisations, harnessing deep industry expertise and our policy expertise to shape government infrastructure policy toward the best possible economic and social outcomes.
Leadership
The National Advisory Board is drawn from the most senior levels of the public and business sectors. It provides high level advice that shapes our research and informs our advocacy within Australia's infrastructure policy debate.
Adrian Dwyer, Our CEO
Our board
---
Policy & Research
Major research is a core element of our public policy work. We are committed to providing Members and stakeholders with insightful, evidence-based, reliable and relevant information on infrastructure-related issues to assist the decision making process – and to inform and educate the media and community.
We are committed to the ongoing development of major policy and research reports which address significant national issues. A selection of our major reports are available on the Major Reports section of our website.
We contribute to the national debate through detailed submissions to relevant government reviews and public inquiries, on behalf of the infrastructure sector. We make submissions on transport, utilities and social services – together with taxation, regulation, project procurement and strategic planning matters.
Recent Reports
Robert Montgomery
Head of Economics & Policy
P: +61 2 9152 6021
E: [email protected]
---
Communications & Engagement
Infrastructure is a key part of the national debate and we play an important role informing media, stakeholders and the wider community about infrastructure. Representing the public and private sectors, we are an authoritative and independent voice on some of Australia's most pressing issues. We regularly appear on national media outlets – and maintain an active social media presence.
We also publish Future Building, the Australian Infrastructure Review annually.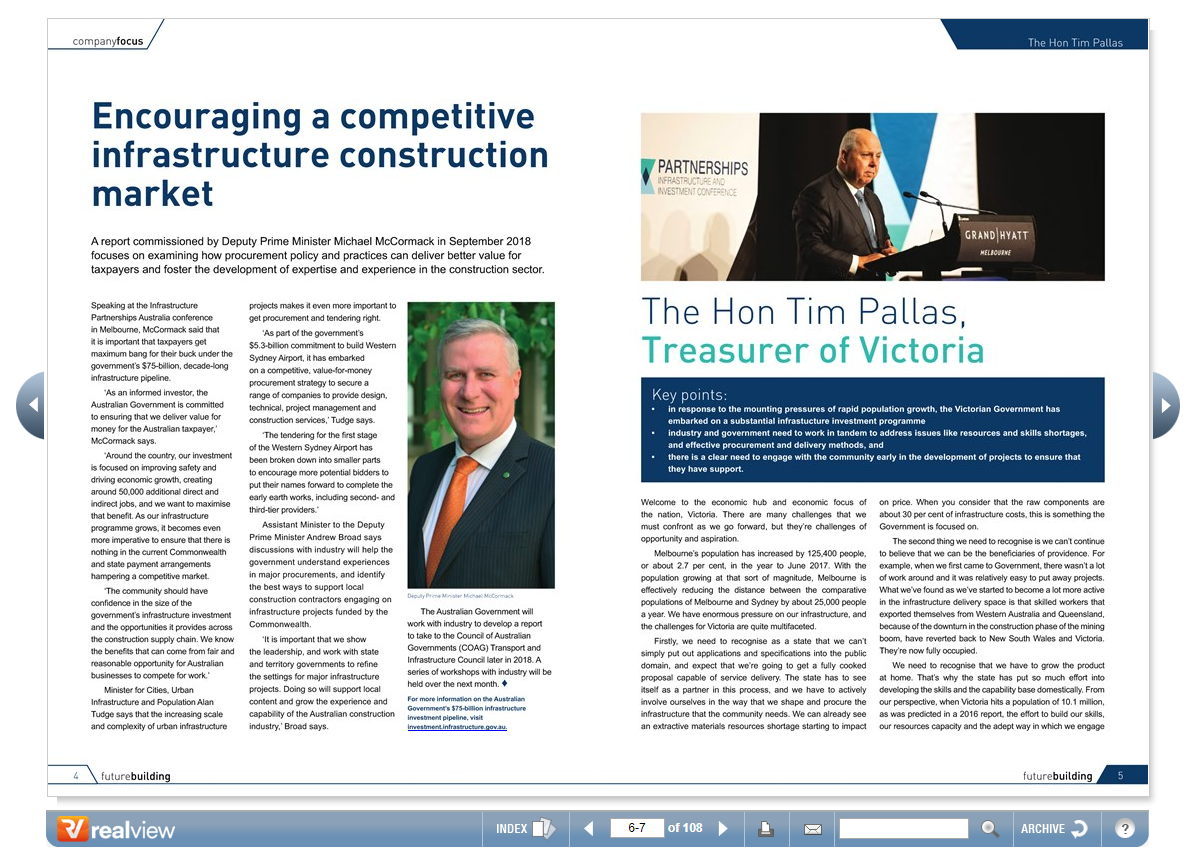 If you are a member of the media and wish contact us for comment or information please contact:
Michael Player
Director, Communications and Engagement
P: +61 2 9152 6016
E: [email protected]
---
Membership & Events
Our industry events program brings together key decision makers from across the business and government sectors to promote genuine partnerships and good public policy. Our events program is a service offered exclusively to our Members and complements our wider public policy and advocacy agenda.
All our events
If you are a member and would like to be an event host or sponsor please contact:
Rachel Kennedy
Director, Operations and Partnerships 
P: +61 2 9152 6019
E: [email protected]

---
InfrastructurePipeline.org
The Infrastructure Pipeline provides a forward view of public infrastructure activity across Australia and New Zealand, providing certainty of the forward work program to investors, constructors, governments and other agencies. The Infrastructure Pipeline informs industry of where and what infrastructure opportunities are available, and when they come to market by tracking greenfield and brownfield transactions from when they are proposed, until they reach contractual and financial close.
Visit the Pipeline