Our membership brings together key decision makers from across the private and public sectors to promote genuine partnerships and good public policy.
Our membership benefits
Contribute to policy leadership
Drive reform
Access to industry leaders
Executive industry analysis
Access to data analytics
Profiling your organisation
We are Australia's longest standing infrastructure think tank, formed in 2005 as a genuine and enduring policy partnership between Australia's governments and industry. We exist to shape public debate and drive policy reform for the benefit of the national interest.
Our public sector membership is drawn from Commonwealth, state and territory infrastructure, planning, environment, finance and treasury departments, as well as government-owned corporations.
Our private sector members include major financiers, law firms, contractors, consultants, equity and debt investors, infrastructure technology providers, super funds and operators.
We structure our membership as a single-tier offering to ensure equal focus across all of our members.
---

Executive Networking 
We deliver 70-80 events per year, ranging from our prestigious Oration and Awards dinner to boardroom lunches and topic specific policy taskforces.
Infrastructure Partnerships Australia's bespoke calendar of events facilitates exclusive networking and provides unparalleled brand exposure through hosting and sponsorship opportunities.
View all our events
Member eXperience

– Get a backstage pass to infrastructure
We are proud to present our new event series, Member eXperience. The series allows members to access the heart of infrastructure, offering site visits to some of Australia's most exciting infrastructure assets.
As well as being an opportune networking experience, these exclusive tours will include a briefing from the project/site representative on the inner workings of the assets – "the backstage pass".
Learn more
---

Our Policy and Advocacy
We are dedicated to in-depth research and policy analysis that benefits all Australians. We harness the sector's experience and our deep market understanding to provide our members with up-to-date analysis and reports, and meaningful solutions to policy challenges.
Infrastructure Partnerships Australia's policy taskforces provide a unique opportunity for our members to contribute to our policy agenda and help move the dial on reform.
WEEKLY INFRASTRUCTURE REPORT
We send out a weekly Infrastructure Report, as well as special editions for the budget season 'The Budget Report'. We have over 6,000 subscribers. If your organisation has recent news – this a great way to share it with the sector and profile your success.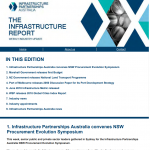 POLICY PARTNERSHIPS
We encourage you to collaborate or seek advice from our policy experts on topics that matter to you. Our policy advocacy shapes public debate and strives to make Australia the world leader in infrastructure.
---
Is your organisation interested in membership of Infrastructure Partnerships Australia?
Please complete the form and a member from our team will be in contact you with further information and answer any questions you may have.
Get in touch