Australian Infrastructure Budget Monitor 2019-20
Report: Australian Infrastructure Budget
Monitor 2019-20
Infrastructure Partnerships Australia's Australian Infrastructure Budget Monitor measures infrastructure funding commitments by jurisdictions for the current budget year and forward estimates (FY2019-20 to FY2022-23). This report collates information from the latest budget papers from federal, state and territory governments to provide insights into their infrastructure investment programs beyond the headline figures.
The purpose of the Australian Infrastructure Budget Monitor is to inform the community, industry and researchers about historical and projected public infrastructure investment in Australia. It allows readers to compare and evaluate the commitment by governments to building infrastructure, which can boost the economy in the short term through construction and provide the foundation for longer-term economic and social development.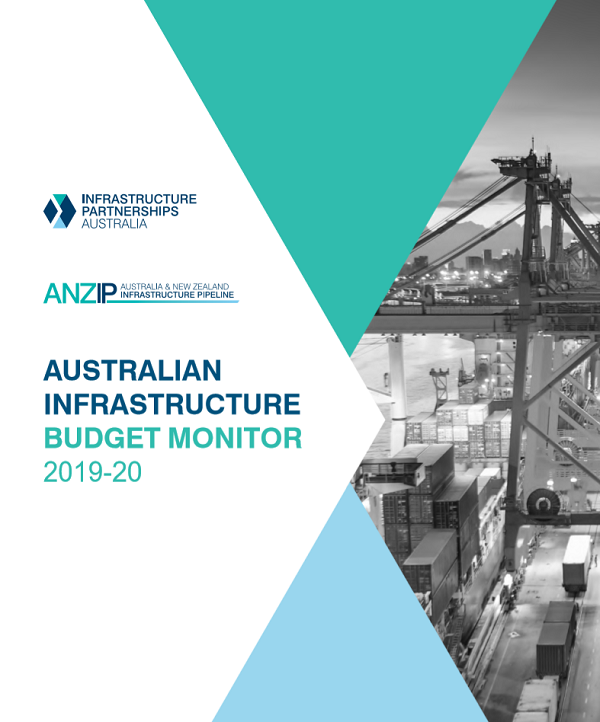 ---
CEO Message
Australia's cities are growing, and infrastructure is central to supporting larger populations and higher community expectations of transport, utilities and social services. Beyond its role in keeping up with population growth, infrastructure is also central to the long-term productivity of the Australian economy.

Where the costs of infrastructure cannot be fully recovered through user charges, government funding is necessary to develop new projects. For this reason, trends in state, territory and Commonwealth infrastructure funding provide a leading indicator of the near-term project pipeline.
The 2019-20 Australian Infrastructure Budget Monitor highlights increasing commitments toward infrastructure across all states and territories. The 2019-20 budget season also saw increases across all jurisdictions to the share of total government expenditure dedicated to infrastructure.
NSW and Victoria continue to dominate Australia's infrastructure funding in both overall quantum and share of total expenditure. Queensland narrowly retained its third-place ranking in our Budget Monitor, with the Northern Territory leading the other jurisdictions in terms of infrastructure funding on a per capita basis.
Last year saw Western Australia and the Commonwealth reduce their infrastructure funding levels due to fiscal pressure. This year, despite shortfalls in revenue forecasts, all state and territory governments have increased their infrastructure funding levels from the previous budget.
Asset recycling continues to support NSW, Victoria and the ACT with the funds from their asset divestments bolstering their fiscal health for continued infrastructure funding growth. If the Queensland Government wants to keep pace with its southern neighbours, its leaders will need to reconsider their opposition to asset recycling. Although Queensland mildly increased its infrastructure funding levels, its share of budget dedicated to infrastructure is more than five percentage points below those of NSW and Victoria.
We hope you find the Australian Infrastructure Budget Monitor useful. If you are interested in learning more about the infrastructure pipeline in Australia, you can find more information on our Australia and New Zealand Infrastructure Pipeline at infrastructurepipeline.org
Adrian Dwyer
Chief Executive Officer
---
Key Findings
---
For more information, please contact:
Robert Montgomery
Head of Policy and Economics
For all media enquiries please contact:
Michael Player
Director of Communications and Engagement
E: [email protected]
T: (02) 9152 6016
Follow the conversation – Share, like and comment under #BudgetMonitor2019