Road User Charging for Electric Vehicles
Road User Charging for Electric Vehicles
Since the early 1990s, policy advisors including the Productivity Commission, Infrastructure Partnerships Australia, the Harper Review, Infrastructure Australia, and Infrastructure Victoria have called on Australian governments to reform the way we pay for roads.
Over recent years however, the reform case has become increasingly urgent. The uptake of fuel-efficient vehicles has driven a rapid and terminal decline in fuel excise revenue – which makes up a major source of funding for our roads.
With electric vehicles set to become a dealership mainstay over the next decade, fuel excise revenue will simply fall off a cliff, meaning less money to pay for transport investment.
That is why Infrastructure Partnerships Australia is calling for a road user charge on electric vehicles. Applying a simple distance-based charge to electric vehicles will ensure every motorist makes a fair and sustainable contribution to the use of the roads.
---
Over recent years, reform has become the hardest word. Productivity-boosting reforms of the 1980s, 1990s and early 2000s have driven 28 years of uninterrupted economic growth. Governments are investing in infrastructure at record levels – particularly in NSW and Victoria – but productivity growth has largely stalled.
Technologies and markets are moving faster than regulators, placing Australians at risk of missing out on the opportunities these advances bring. Transport in particular faces a strong imperative for change. We are in the midst of a transport revolution, driven by electrification, the spectre of automation, and on-demand travel options. Without reform, Australia will be soon driving with the handbrake on.
It does not have to be this way. One transport reform can place Australia at the front of the pack, support further innovation and technological development, unlock productivity benefits through more efficient road networks, and ensure we can pay for transport services for generations to come.
Introducing a road user charge for electric vehicles is a home run reform. It represents a win-win for infrastructure users and taxpayers. But there is a catch – reform must be delivered soon.
Fortunately, the timing is perfect. We've made it through a cluster of elections over the past 12 months – including those of the Federal Government and our two largest states. This means governments have a unique window to engage communities on the need for reform, and to get it done.
Fuel excise is in terminal decline, while the total number of vehicle kilometers traveled is only growing. This trend started many years ago as vehicles became more fuel-efficient and is set to fall off a cliff as a wave of electrification hits. What has emerged gradually as an increasingly unsustainable tax – and one that is unfair for many users – will very quickly become untenable as those who cannot afford an electric vehicle must foot a growing road bill for those who can.
We are also at the perfect moment in the technology cycle. While electric vehicles still only represent a small fraction of new car sales, the future of our light vehicle fleet is electric. Once there is an electric car in every street, the opportunity will be lost.
While fuel excise is a federal charge, and there are benefits to nationally led-reform, states and territories have an opportunity to jump ahead. There is a large first mover advantage in claiming an ongoing revenue stream that is stable, reliable, and immune to inflation or economic downturns. In an environment of tightening fiscal settings, a new and sustainable source of revenue is an attractive proposition.
All governments have a clear imperative for change. This paper provides a pathway for that change. We look forward to working closely with governments, industry and the community to make it work.
Adrian Dwyer
Chief Executive Officer
---
---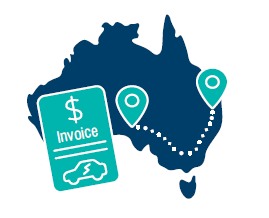 A per-kilometre charge should be set or capped to ensure electric vehicle motorists pay no more than those paying fuel excise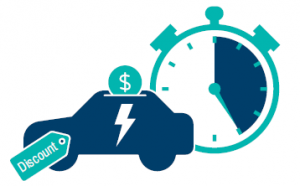 Governments may wish to provide a time-limited discount period to encourage uptake and provide certainty for prospective electric vehicle buyers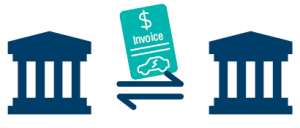 Charges could be the same or different across states and territories, but should be based on the same methodology and a compatible approach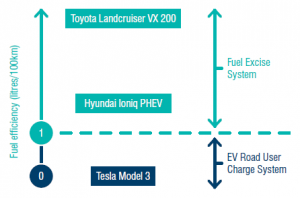 The charge should capture all vehicles with manufacturer-rated fuel use below 1 litre per 100 kilometres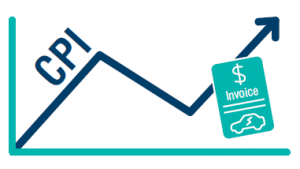 The charge should be indexed in line with inflation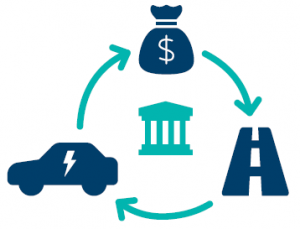 Funds raised should be retained in the jurisdiction they are raised and reinvested in maintenance and new transport capacity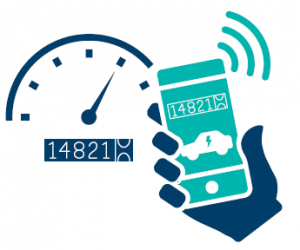 Motorists should submit (or vehicles transmit) odometer readings every six or 12 months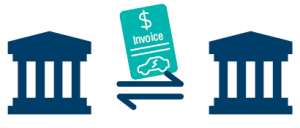 Charges could be the same or different across states and territories, but should be based on the same methodology and a compatible approach
---
Option 1: 
Federal leadership
The Federal Government leads reform in collaboration with states and territories.
Option 2: 
States and territories collaborate
Multiple state and territory governments collaboratively advance reform.
Option 3: 
States and territories go it alone
State and territory governments implement reform individually.
---
---
For more information
please contact