Over the last year, we have been working closely with our members, National Advisory Board, and Executive Team to develop a new strategic direction for Infrastructure Partnerships Australia.
This work has culminated in the development of a new Corporate Plan covering the period 2020 to 2023.
The development of the Corporate Plan builds on our 14 years of success and sets a bold national vision – to make Australia the frontier for excellence in infrastructure.
To execute on this vision, we have set a new mission to be the number one industry group and leading voice for infrastructure in Australia, through exceptional research, advocacy, and member services.
To achieve this mission, we have developed a series of priority activities across Infrastructure Partnerships Australia's core business units.
These activities include initiatives already in progress and longer-term actions that aim to drive greater value for members and evolve the organisation over time.
To ensure we remain accountable to our members and Board, each activity has a correlating performance measure. This will allow the organisation to track our progress and commitment to delivering on our vision and mission.
Our members and the infrastructure users they serve are a core focus of everything that we do at Infrastructure Partnerships Australia. That will continue to remain the case as we deliver our Corporate Plan over the next three years.
---
DOWNLOAD OUR CORPORATE PLAN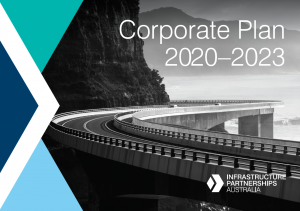 READ MORE