2021 International Airfreight
Indicator Report
Infrastructure Partnerships Australia presents the 2021 International Airfreight Indicator. As the second instalment of this research, the 2021 Indicator highlights the impacts of COVID-19 on air freight supply chains as well as identifying the long term implications of the pandemic for the industry.

This is an extract, full report available as PDF download
In 2020, airfreight accounted for almost $125 billion or one-fifth of the value of Australia's international trade. The supply chain transported 730,000 tonnes of goods, equivalent to 15 fully-loaded 747-8 freighter services, each day. While the weight of goods carried by airfreight is relatively low accounting for less than one per cent of total trade, the high-value nature of airfreight goods means its economic contribution to Australia is significant.
The airfreight supply chain, and the industries up which it relies, remains one of the most impacted parts of our economy. Almost overnight, the pandemic grounded approximately 90 per cent of international passenger flights, which had carried approximately four in every five airfreight shipments in the prior years. In some cases, the cost of transporting goods by airfreight increased to up to 13 times pre-COVID rates as a result.
Remarkably, total volumes were only one-third lower in 2020 compared to 2019, which can be attributed to several factors. The Federal Government's International Freight Assistance Mechanism (IFAM), which helped reconnect Australia's air links and temporarily restored airfreight services, played a critical role in ensuring Australia remained connected to existing trading markets. Supply chain users also adapted to the conditions by transporting goods to airports where scarce freight capacity existed, and through the increased use of dedicated freighters and 'preighters,' among other initiatives.
Figure 1: Australian international airfreight as a proportion of total trade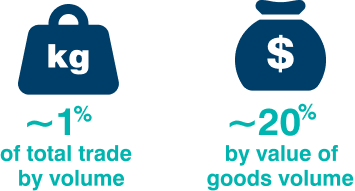 Source: ABS custom data, Infrastructure Partnerships Australia analysis
There is a need and opportunity to rethink the airfreight supply chain
The disruption, and the uncertainty around when international aviation networks will return to pre-COVID levels and how they will look, has provided both the need and opportunity to rethink the airfreight supply chain.
Given the ongoing border uncertainties, there is reason to believe there will be growing demand for ultra long-haul services bypassing traditional hubs in Asia and Middle East. This, together with the expected deployment of single-aisle aircraft on some international routes, raises a number of questions for supply chain participants and policy makers, including:
• how would a greater concentration of passenger flights at major Australian airports acting as gateways to Europe and the US impact supply chains?
• which airlines that have ceased services to Australia will resume services, when will this occur, and how will this impact direct connections to some destinations?
• what are the freight capacity implications of ultra long-haul services, pushing the limits of aircraft range capabilities, replacing one-stop services? Will freight be left behind in favour of carrying extra passengers?
• will the increasing use of single-aisle aircraft on routes to Asia result in reduced capacity for airfreight?
• will a reduction in airfreight capacity as a result of fleet composition changes be adequately replaced by dedicated freighter services and is the supply chain prepared to adapt to these changes?


For many years, the airfreight supply chain relied on competitively priced and abundant capacity in the cargo hold or 'belly' of passenger flights to transport goods to and from Australia. The regular schedule of flights connecting Australian airports to key markets allowed goods to flow with relative ease.
Between 2016 and 2019, the value of airfreight imports increased by 15 per cent, while exports grew by an impressive 26 per cent. Four out of every five shipments were carried in the belly of passenger flights with the remaining volumes transported by dedicated freighters.
Airfreight value ($m), 2016-2020
Source: ABS custom data, IPA analysis. The value of goods measured on a free on board (fob) basis includes all production and other costs incurred up until the goods are placed on board the international carrier for export. Values are presented in nominal terms. See Appendix A for a more detailed description.
Pandemic disruption to an important trade link
This growth came to a grinding halt in March 2020 as the pandemic, and subsequent border closures, saw the loss of all but a few international commercial passenger flights.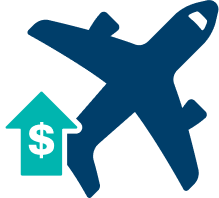 The cost of transporting goods by airfreight increased significantly with freight rates for some perishables increasing by up to 13 times pre-COVID rates on some routes.
Overall airfreight volumes declined by almost a third in 2020, with exports experiencing the most significant falls.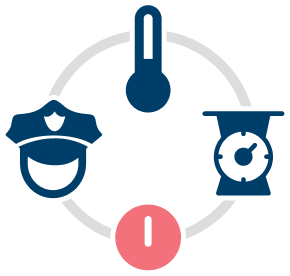 This reflected the additional challenges faced by exporters of perishables including customs requirements, transportation temperature requirements, and in some cases their lack of suitability to the high-capacity low-frequency dedicated freighter network operating during the year.
Maintaining trade flows in challenging conditions…with some assistance

The Federal Government's International Freight Assistance Mechanism program (IFAM) played a key role in reconnecting air links by providing logistical and administrative support for international freight movements through IFAM flights and grant assistance, and by supporting regional and remote flight connections. 

Airfreight users, with the assistance of IFAM, adapted to the new conditions by switching up supply chain modes, for example trucking goods to airports with airfreight capacity, and by changing production and shipment patterns to suit the schedule of dedicated freighters and 'preighters'. Some airfreight users adopted new packaging technologies or alternative crop variations to allow goods to be transported by sea.
The response by airfreight users and IFAM meant the transportation task remained significant, with over 730,000 tonnes carried in 2020. This equates to approximately 15 fully-loaded Boeing 747-8 freighters each day. Airfreight trade also accounted for almost one-fifth of total trade, as measured by the value of goods transported, underlying its significant economic contribution.


In 2020, the year COVID-19 took hold, the supply chain:
• helped the movement of 373,000 tonnes of exports, which consisted predominantly of high-value meat, horticulture, dairy and seafood bound for Asian markets. This was a decline of over 200,000 tonnes, or 35 per cent compared to 2019, although it is noted that trade disruptions are likely to have also impacted export volumes
• transported 360,000 tonnes of imports, which included mainly electronics and online shopping goods from China, USA, Hong Kong, Singapore and the EU. This was a decline of 70,000 tonnes or 16 per cent compared to 2019, and
• played a key role in transporting significant volumes of personal protective equipment (PPE) to support the pandemic response.
Airfreight imports/exports vs total freight, tonnes

Source: ABS custom data, IPA analysis.
Adapting to the post-pandemic world

The pandemic exposed vulnerabilities in supply chains, in particular exports, and has raised questions about the long-term outlook and resilience of the supply chain including:
• how and when airlines and air routes to and from Australia will be restored following the pandemic, and the implications for freight
• what the increased reliance on high-capacity dedicated freighters and higher prices for airfreight mean for exporters of perishables
• whether road transport links to major airports are sufficient, and what is needed to make domestic transhipments work
•  how the relationship between international sea and airfreight evolves once freight pricing and capacity across both modes find new equilibriums post-COVID
• how increased adoption of innovations allowing for alternatives to airfreight, and
• the role of data in freight markets distorted by border closures and a gradual return to pre-COVID capacity.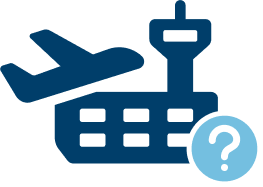 These questions coincide with the opening of Western Sydney International (Nancy-Bird Walton) Airport (WSA) which is likely to play an important role in the airfreight supply chain. While the impact of WSA opening is not yet clear, the Airport's proximity to freight precincts in Western Sydney and ability to operate 24/7 means it is well positioned to support airfreight flows. The opening of WSA could improve the efficiency of the supply chain across the country.
Despite the short-term headwinds faced by the supply chain, there is a great opportunity to plan for how airfreight's role in the broader supply chain will evolve over the coming decades, and to find new sources of efficiency, and new markets for our products.
About the 2021 International Airfreight Indicator
The 2021 International Airfreight Indicator follows on from the 2019 analysis and continues to provide a granular understanding of Australia's airfreight flows and highlights key trends, challenges and opportunities for the supply chain. By transparently measuring the composition of these trade flows, this analysis provides supply chain participants – airlines, airports and Australians more broadly – access to the information and insights needed to optimise the way we use our infrastructure and maximise our economic opportunities. This is especially critical given the changing aviation and supply chain environment.
This analysis describes airfreight by both the value of goods transported and also by weight. The weight of goods transported provides an indication of the transportation task and infrastructure requirements, while the value of goods transported highlights the economic contribution of the supply chain.
The primary source of data used in this analysis is unpublished import and export statistics from the Australian Bureau of Statistics (ABS). This dataset details airfreight commodity movements by direction of trade, units of trade in both value and volume of goods, and by commodity categories from January 2016 to December 2020. All monetary values described in this analysis are presented in nominal terms. A more detailed description of the dataset is provided in Appendix A.

For more information
please contact
Mollie Matich
Director, Policy and Research
Infrastructure Partnerships Australia
Jamie Harrison
Policy Advisor
Infrastructure Partnerships Australia
For all media enquiries contact:
Michael Player
Director, Communications and Engagement
Infrastructure Partnerships Australia