2019 National Infrastructure Awards
Leaders from across the national infrastructure sector gathered at last night's Annual Infrastructure Oration and 2019 National Infrastructure Awards gala dinner, held in Melbourne.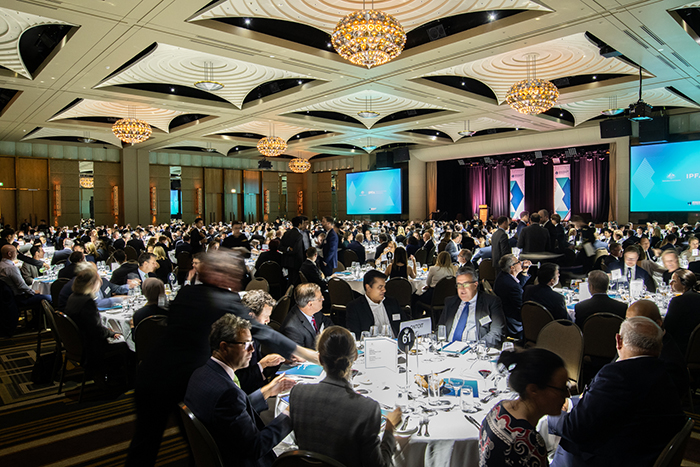 This year's Oration was delivered by Avery Bang, Chief Executive Officer and President of Bridges to Prosperity. Ms Bang was named one of the world's top 25 most newsworthy engineers by Engineering News Record, and was selected as one of American Society of Civil Engineers' top ten engineers under 30. She has also won the ASCE President's Medal.
The prestigious Project of the Year winner was the WestConnex Transaction. It was awarded to:
NSW Treasury and Transport for NSW (Roads and Maritime Services) and their advisors: 




Allens, Ashurst, BIS Oxford Economics, Clayton Utz, GHD, Goldman Sachs, Newgate Australia, Turner & Townsend, and PwC

Sydney Transport Partners (Transurban, AustralianSuper, Canadian Pension Plan Investment Board and Tawreed Investments) and their advisors: 




Advisian, Aquasia, Clifford Chance, EY, E3 Advisory, Greenwoods, Herbert Smith Freehills, King & Wood Mallesons, KPMG, Macquarie Capital, Morgan Stanley, UBS, and WSP

Marika Calfas, Adrian Kloeden, Sir Rod Eddington AO, and the winners of Project of the Year Award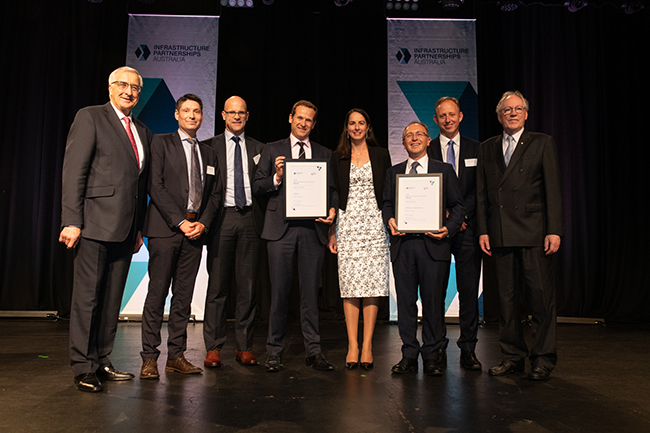 Source: Infrastructure Partnerships Australia

The 2019 Annual Infrastructure Oration and National Infrastructure Awards marked Adrian Kloeden's formal retirement as Chair of Infrastructure Partnerships Australia, and Sir Rod Eddington AO's appointment to the position.
 
In recognition of Mr Kloeden's five years' as Chair of Infrastructure Partnerships Australia and his 12 years of service on the Board, new Chair Sir Rod Eddington AO appointed Mr Kloeden as a Patron of the organisation.
 
Mr Kloeden joins other distinguished names such as the Hon Mark Birrell, the Hon Nick Greiner AC, Nicholas Moore, Dr Kerry Schott AO, and Tony Shepherd AO in serving as patrons of Infrastructure Partnerships Australia.
 
Alexis Davison, Director, Program Services & Engineering, Major Road Projects Victoria was awarded the Women's Achievement in Infrastructure Award. Ms Davison received the Award for her strong leadership, deep expertise, and proven ability in delivering exceptional business cases.
Alexis Davison, Shannon Cotter, Adrian Kloeden and Sir Rod Eddington AO 
There were also two exciting additions to the 2019 awards program – Industry Choice Award and the Future Infrastructure Leader of the Year Award.
 
The Industry Choice Award has been introduced to recognise projects that have demonstrated exceptional focus on customer and community outcomes. The Judging Panel shortlisted finalists for the award, which were then voted on by attendees at the Annual Infrastructure Oration + National Infrastructure Awards.
 
The inaugural winner of the Industry Choice Award was the Caulfield to Dandenong Level Crossing Removal Project.
 
The Future Infrastructure Leader of the Year Award was created to recognise the next generation of problem solvers, innovators and leaders under the age of 35 who have made an exceptional contribution to the sector.
 
The inaugural recipient of the Award was Simon Lehman, Senior Signaling Project Engineer, John Holland. Mr Lehman was recognised for his mentorship of younger team-members and exceptional work at the forefront of infrastructure delivery.
Every year an independent Judging Panel is convened to consider the Awards. This year the Judging Panel was Chaired by Leilani Frew, Chief Executive Officer, Infrastructure and Project Financing Agency, alongside other respected public sector leaders.

Leilani Frew
Leilani Frew | Chief Executive Officer, Infrastructure and Project Financing Agency (Chair)
Kim Curtain | Interim Deputy Secretary, Trade, Tourism, Investment and Precincts,


NSW Treasury

Jason Loos | Deputy Secretary, Victorian Department of Treasury and Finance
Dr Steven Kennedy PSM | Secretary, Federal Department of Infrastructure, Regional


Development and Cities, and

Neil Scales OBE | Director-General, Queensland Department of Transport and


Main Roads.
---

We would like to thank all of the sponsors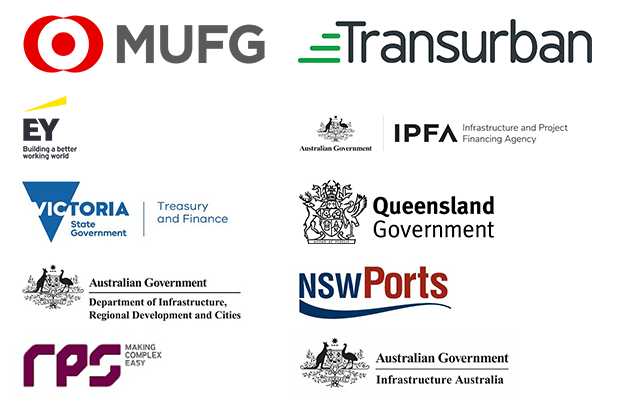 ---
+

2019 Category Winner & Finalists
WINNER
WESTCONNEX TRANSACTION

NSW Treasury and Transport for NSW (Roads and Maritime Services) and their advisors




Allens, Ashurst, BIS Oxford Economics, Clayton Utz, GHD, Goldman Sachs, Newgate Australia, Turner & Townsend, and PwC

Sydney Transport Partners (Transurban, AustralianSuper, Canadian Pension Plan Investment Board and Tawreed Investments) and their advisors




Advisian, Aquasia,Clifford Chance, EY, E3 Advisory, Greenwoods & Herbert Smith Freehills, King & Wood Mallesons, KPMG, Macquarie Capital, Morgan Stanley, UBS. and WSP

---

2019 FINALISTS

Canberra Light Rail

ACT Government (Transport Canberra) and their advisors:
Arup, Clayton Utz, EY, HASSEL Studio, RPS Group, Sparke Helmore, Turner & Townsend, WSP
Canberra Metro Consortium (Aberdeen Infrastructure Investments, CPB Contractors, John Holland, Mitsubishi Corporation, MUFG, Pacific Partnerships and UGL) and their advisors:
AECOM, Architectus, CAF, Herbert Smith Freehills, R-Co, SMEC

Caulfield to Dandenong Level Crossing Removal Project

the Alliance (comprising of Aurecon, CPB Contractors, Lendlease, Metro Trains Melbourne, WSP) 
Arcadis
Level Crossing Removal Project
Major Transport Infrastructure Program

Wentworth to Broken Hill Pipeline

GHD
Jacobs
John Holland
MPC Kinetic
TRILITY
WaterNSW

---

 We thank NSW Ports for sponsoring the 2019 Project of the Year Award


 

WINNER
ALEXIS DAVISON
DIRECTOR, PROGRAM SERVICES & ENGINEERING 
MAJOR ROAD PROJECTS VICTORIA

---

The 2019 Women's Achievement in Infrastructure Award was presented to Alexis Davison, Director, Program Services & Engineering at Major Road Projects Victoria.
 
Ms Davison was recognised by the Judging Panel for her strong leadership and mentorship of other female engineers in the sector.

Ms Davison has had a long and successful career in infrastructure over the last two decades. She has consistently delivered outstanding business cases for Major Road Projects Victoria and is a true leader in her field. 

Ms Davison joins a distinguished list of previous winners, including Marika Calfas, An Nguyen, Leilani Frew, Thao Oakey and Kerrie Mather.

---

 We thank EY for sponsoring the 2019 Women's Achievement in Infrastructure Award








WINNER
SIMON LEHMAN
SENIOR SIGNALING PROJECT ENGINEER
JOHN HOLLAND

---

The 2019 Future Infrastructure Leader of the Year Award was presented to Simon Lehman, Senior Signalling Project Engineer at John Holland.

Mr Lehman has proven to be a major asset and path breaking engineer for the John Holland rail team. The Judging Panel were particularly impressed by his on-the-job training of younger team members and his exceptional work at the forefront of infrastructure delivery. 

---

 We thank RPS for sponsoring the 2019 Future Infrastructure Leader of the Year Award


 







WINNER
CAULFIELD TO DANDENONG LEVEL CROSSING REMOVAL PROJECT

the Alliance (comprising Aurecon, CPB Contractors, Lendlease, Metro Trains Melbourne, and WSP)
Level Crossing Removal Project
Major Transport Infrastructure Program

---

2019 FINALISTS

Mernda Rail Extension Project 

John Holland
KBR
Level Crossing Removal Project
Metro Trains Melbourne
Major Transport Infrastructure Program

Queensland Schools Project 

Plenary Schools Consortium (Plenary Group, DeltaFM Australia and Watpac)
Queensland Department of Education

 

Wentworth to Broken Hill Pipeline

GHD
Jacobs
John Holland
MPC Kinetic
TRILITY
WaterNSW

Sydney Metro Martin Place Integrated Station Development  

Macquarie Group
Sydney Metro
Transport for NSW




WINNER
SYDNEY METRO MARTIN PLACE INTEGRATED STATION DEVELOPMENT 

Advisors to Transport for NSW


Ashurst, CBRE, and KPMG

Advisors to Macquarie Group


Herbert Smith Freehills, Macquarie Capital, MinterEllison, PwC, and Arup

---

2019 FINALISTS

Infrastructure Victoria's advice on automated and zero emissions vehicles infrastructure 

WestConnex Transaction 

Advisors to the NSW Government:
Allens, Ashurst, BIS Oxford Economics, Clayton Utz, GHD, Newgate Australia, PwC, and Turner & Townsend
Advisors to Sydney Transport Partners:
Advisian, Clifford Chance, EY, E3 Advisory, Greenwoods & Herbert Smith Freehills, King & Wood Mallesons, KPMG, and WSP

Sydney Metro Northwest OTS 

---

We thank the Infrastructure and Project Financing Agency for sponsoring the 2019 Advisory Excellence Award


 





WINNER
WESTCONNEX TRANSACTION

Financial Advisors to the NSW Government
Goldman Sachs and NSW Treasury

Financial Advisors to Sydney Transport Partners 
Aquasia, Macquarie Capital, Morgan Stanley, and UBS

---

2019 FINALISTS

AgriBio, Centre for AgriBioscience Refinancing

Darling Harbour Live Refinancing 

Kwinana Waste to Energy 

---

We thank the Queensland Department of Transport and Main Roads for sponsoring the 2019 Financial Excellence Award 


 





WINNER
CAULFIELD TO DANDENONG LEVEL CROSSING REMOVAL PROJECT

the Alliance (comprising Aurecon, CPB Contractors, Lendlease, Metro Trains Melbourne, and WSP)
Level Crossing Removal Project
Major Transport Infrastructure Program

---

2019 FINALISTS

Canberra Light Rail  

ACT Government (Transport Canberra)
Canberra Metro Consortium (Aberdeen Infrastructure Investments, CPB Contractors,
John Holland, Mitsubishi Corporation, MUFG, Pacific Partnerships and UGL)

Metro Tunnel Project: Rail Projects Victoria and PwC's Indigenous Consulting Partnership 

PwC's Indigenous Consulting
Rail Projects Victoria

Sydney Metro Martin Place Integrated Station Development  

Macquarie Group
Sydney Metro
Transport for NSW

---

We thank Transurban for sponsoring the 2019 Government Partnerships Excellence Award


 





WINNER

WENTWORTH TO BROKEN HILL PIPELINE

---

2019 FINALISTS  

Bruce Highway Boundary Road Interchange   

Caulfield to Dandenong Level Crossing Removal Project  

CPB Contractors

Lendlease

M80 Ring Road Upgrade: Sunshine Avenue to Calder Freeway  

---

We thank MUFG Bank for sponsoring the 2019 Contractor Excellence Award


 





WINNER

TASWATER REGIONAL TOWNS WATER SUPPLY PROGRAM – STAGES 2 AND 3 

---

2019 FINALISTS

Incident Management Project   

Queensland Schools Project

Plenary Schools Consortium (Plenary Group, DeltaFM Australia and Watpac)
Queensland Department of Education

---

We thank the Victorian Department of Treasury and Finance for sponsoring the 2019 Operator and Service Provider Excellence Award


 





WINNER

UNINTERRUPTIBLE POWER SUPPLY FOR MELBOURNE'S RAILWAY SIGNALLING NETWORK 

AECOM
AEG
Metro Trains Melbourne
Public Transport Victoria
Thycon

---

2019 FINALISTS

Dynamic Speed Management Trial   

Kwinana Waste to Energy  

Acciona
Dutch Infrastructure Fund
Keppel-Seghers
Macquarie Capital
Phoenix Energy Australia
Veolia

M80 Ring Road Upgrade: Sunshine Avenue to Calder Freeway   

---

We thank the Federal Department of Infrastructure, Regional Development and Cities for sponsoring the 2019 Innovation Excellence Award