Our rich calendar of events brings together key decision makers from across the private and public sectors to promote genuine partnerships and good public policy.
We bring together Australia's major public and private infrastructure organisations, harnessing deep industry expertise and our policy experience to lead debate and shape government infrastructure policy towards achieving the best possible economic and social outcomes.
Membership benefits
CONTRIBUTE TO POLICY LEADERSHIP
EXECUTIVE NETWORKING
PROJECT, DATA & POLICY SERVICES
ADVOCACY AND ENGAGEMENT
PROFILING YOUR ORGANISATION
We offer a range of services which would be of substantial value to you and your colleagues, in terms of our blue-chip network of public and private sector leaders and your ability to contribute to our research and policy programme. 
---
Networking and partnerships
Our public sector membership is drawn from Australia's major state, territory and commonwealth  transport, infrastructure, finance and treasury departments; and operating government owned  corporations; and our private sector membership include major financiers, law firms, contractors, equity investors, operators and related disciplines.
We deliver 80-90 events per year, ranging from our prestigious Oration and Awards dinner to boardroom lunches and topic specific policy taskforces. These events offer hosting and sponsorship opportunities, in different varieties. 
Read more about our events
---
Our Policy, data and project services
We are dedicated to in-depth research, policy analysis and developing policy solutions that benefit the sector. We harness the sector's experience and our internal capabilities to develop meaningful solutions to policy challenges and up to date analyses and reports.
WEEKLY NEWSLETTER
We send out a weekly Infrastructure Report, as well as special editions for the budget season "The Budget Report". We have over 6,000 subscribers. If your organisation has recent news – this a great way to share it with the sector and profile your success and thought leadership.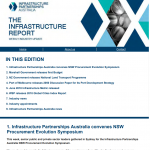 POLICY PARTNERSHIPS
We welcome you to collaborate or seek advice from our policy experts on topics that matter to you. Our policy advocacy shapes public debate and strives to make Australia the world leader in infrastructure.
---
Interested in our membership?
Please click on contact below to provide your details and a member of our team will be in contact as soon as possible.
Contact